Six Japanese Gardens, a bond between music and painting
In co-operation with musician Dominique Vleeshouwers (winner of the prestigious Dutch Music Award 2020) Marcel van Hoef developed a concept based on the composition Six Japanese Gardens by the famous Finnish composer Kaija Saariaho. In 1994 she wrote a piece for electronic music and percussion based on her impressions of Japanese Gardens she visited in Kyoto, existing out of 6 parts. In 2019 Van Hoef visited the same gardens in Kyoto and used his personal experience of that visit and the music of Saariaho as a source of inspiration for a unique series of six interrelated paintings. Each painting has the same title as the musical part it relates to and is painted in egg tempera on a circular panel (ø 120 cm.). Dominique Vleeshouwers recorded the music by Saariaho. While watching the painting simultaneously one can listen to the music with a headset.
Exhibition
The exhibition Six Japanese Gardens can be visited for free at Saturday November 14 and Sunday November 15 from 11.00 – 17.00 h. at Huis 73 (former Babel). Marcel van Hoef will be present during the opening hours.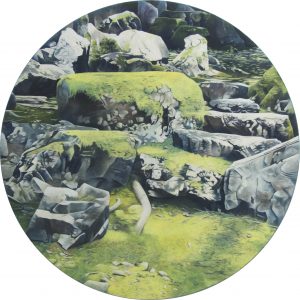 Concert
At Friday November 13 Dominique Vleeshouwers will give a soloconcert in the Grote Kerk in Den Bosch. He will perform live the piece Six Japanese Gardens while all 6 paintings surround him at stage, in presence of the composer Kaija Saariaho. The concert starts at 19.00 h.
Tickets can be bought through: https://www.novembermusic.net/programma/dominique-vleeshouwers-solo